Pastors' Blog
Nothing draws from a preacher the desire to be faithful in his pulpit ministry quite like the appetite of the people for the Word he is charged to proclaim. It is this appetite for the Bible that gives fuel "for the journey." In our part of Jackson County, there are gospel opportunities on every side. Our task in this year is to clearly identify our focused evangelistic efforts and then to develop creative strategies to let loose the Word of God outside of our four walls, that it may do "out there" what it has been doing among us "in here". Our calling, remember, is not to provide a certain 'flavor' of church for those who like that sort of thing. No, the call of God is to "go out to the highways and hedges and compel people to come in" as we share the good news about Jesus with them (Luke 14:23).

Author John Piper has said that, "Missions is not the ultimate goal of the church. Worship is. Missions exists because worship doesn't. Worship is ultimate, not missions, because God is ultimate, not man. When this age is over, and the countless millions of the redeemed fall on their faces before the throne of God, missions will be no more. It is a temporary necessity. But worship abides forever." (John Piper, Let the Nations Be Glad!: The Supremacy of God in Missions, 3rd ed., [Grand Rapids, MI: Baker Academic, 2010] .

Jesus reminds us that "the Father is seeking true worshipers" (John 4:23). Making true worshipers is God's mission. Christians for generations have agreed that our chief end is "to glorify God and enjoy him forever." Being true worshipers is the purpose of all people everywhere. But, since there is no other way to make true worshipers out of rebellious idolaters than to proclaim the good news about Jesus, then we had better get busy about the mission of reaching the world with the gospel, starting right where we are! Worship is the goal and the motive behind our evangelism. It is the purpose for the existence of the church of Jesus Christ. Making more worshipers who will join us before the throne of King Jesus this year is our great purpose, and we must resolve together to go after it with renewed determination.

One great test of how far the Word of God has had its way in a church is to ask how far that church loves the things God loves, and to what degree its mission mirrors the mission of God himself. As we move deeper into 2017 together, will you join me in praying that the Word of God might have its way in our hearts, so that our mission might more fully mirror the mission of the Father in sending the Son to "seek and save the lost"?
​- Pastor Kleiser
Resolve to Know
According to a recent surveys conducted by the University of Scranton and the Journal of Clinical Psychology, the Top 10 New Year's Resolutions for 2015 were:  Lose weight, get organized, spend less and save more, enjoy life, stay fit and healthy, learn something exciting, quit smoking, help others, fall in love, and spend more time with family.  According to their research, 45% of Americans usually make New Year's Resolutions, but only 8% are actually successful in achieving them.  In fact, 24% say that they never succeed in their resolutions.  Despite our best efforts of drumming up the willpower to accomplish things in our lives that would benefit ourselves, others, or fill our bucket lists, many of us fall short of the goals we set for ourselves and wonder how we could ever succeed at the goals God wants to accomplish in our lives.
The psalmist, Asaph, understood this point when he wrote, "My flesh and my heart may fail, but God is the strength of my heart and my portion forever (Ps. 73:26).  While he was considering the prosperity of the wicked and becoming discouraged at their apparent success and his lack, he wisely "went into the sanctuary of God (Ps. 73:17).  With his focus now in the right place, he had a different perspective on his situation because he understood that God's plans never fail.  In fact, we "can do all things through Him who strengthens us (Phil. 4:13).
While all of the top 10 resolutions have good intentions, you will notice that they all take a humanistic approach to resolving only issues in this life and lack any eternal perspective.  Mark Cahill speaks to the heart of this issue when he writes, "What are you doing of significance today that will matter three-hundred-million years from now?
Here's a New Year's Resolution that we can all ascribe to keep in our hearts as Job did:  "For I know that my Redeemer lives, and at the last He will stand upon the earth.  And after my skin has been thus destroyed, yet in my flesh I shall see God, whom I shall see for myself, and my eyes shall behold, and not another.  My heart faints within me (Job 19:25-27)!
Let's resolve to make resolutions that encourage everyone we meet to know the God who created heaven and earth and to spend all eternity with Him, rather than separated from Him.  That's a plan that's guaranteed to succeed because "it is God who works in you, both to will and to work for His good pleasure (Phil. 2:13).  Have a blessed 2017.
- Asst. Pastor Darbyshire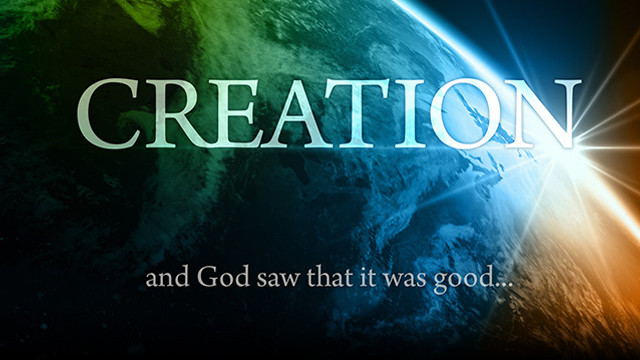 Many today think that humans exist merely because of a freak cosmic accident that had no cause or purpose. As Oxford University professor Peter Atkins said, 'We are just a bit of slime on the planet'. Even many who say that they 'believe in God' have been 'educated' in this new 'enlightened' way of thinking. Thus they now  think that the Bible, which claims to be the Word of God, is merely the words of fallible men. Consequently, they see themselves as free to invent their own ideas about God, rather than submitting to what God has revealed in the Bible. This naturalistic philosophy [evolution] removes any clear source of authority in our lives. If there is no Creator-God who rules over us, then there is no ultimate basis for morality.  We take seriously the example of the Apostle Paul in refuting arguments that stand against the knowledge of God [2 Corinthians 10:5] and the commandment of Jesus Christ that we have a duty to love God with all our hearts, soul and mind [Matthew 22:37]. We must apply intellectual rigor to our faith if we are to be faithful to our Lord and Savior's instruction.  It is for this reason [and others] that we encourage you to visit an excellent website by going to creation.com. You can use the search window to find thousands of articles on the subject of creation.  It is all free.
- C.D. Kleiser